Experience Budapest and its Surroundings like a Local: Sightseeing with Public Transportation

---
Budapest has an extensive and well-connected public transportation system operated by the Budapest Transport Center (BKK). This efficient network boasts numerous lines of buses, trams, trolleybuses, and suburban railways, as well as four metro lines, including the second-oldest electrified underground railway system in the world. Getting around Budapest is easy and affordable. In this article, we'll take you on a journey through the city's public transportation options, that will help you discover Budapest in a whole new way.
---
---
| | |
| --- | --- |
| 10 | Exploring Budapest's Iconic Boulevard: Riding Tram 4 or 6 on Nagykörút |
Tram 4 and 6 run along the Grand Boulevard, also known as Nagykörút in Hungarian, which is one of the busiest and most vibrant streets in the city
Considered to be the busiest tram line in the world, serves approximately 200,000 passengers every day
The longest tram line in Budapest, running over 11 kilometers, operates 24 hours a day
Passes by many of Budapest's major landmarks and attractions, including Margaret Island, New York Café, and Nyugati Railway Station
Budapest Transport Center (BKK) official timetables

---
| | |
| --- | --- |
| 9 | Discover the Charming Towns of Szentendre and Gödöllő by Suburban Train (HÉV) |
Explore the charming town of Szentendre, known for its art galleries, museums, and historic architecture
Great place to try the local Hungarian cuisine, including traditional dishes like goulash soup, stuffed cabbage, and chimney cake
The HÉV suburban railway can be taken from Budapest's Batthyány tér station. From there, the H5 line runs to Szentendre, the journey takes about 40 minutes
Visit the stunning Gödöllő Palace, a former summer residence of the Habsburg royal family
Explore the palace gardens and park, which are open to the public and offer scenic views and recreational activities
You can take the HÉV from Örs vezér tere station in eastern Budapest. From there, the H8 line runs to Gödöllő, the journey takes around 45-50 minutes
Budapest Transport Center (BKK) official timetables
Suburban Railway (HÉV) H5 to Szentendre live map
Suburban Railway (HÉV) H8 to Gödöllő live map

---
| | |
| --- | --- |
| 8 | Buda Castle Hill: A Scenic Ascent with Funicular or Castle Bus |
The Buda Castle Funicular is a historical cable railway that takes you up to the hill in just a few minutes. You'll enjoy breathtaking views of the city as you ascend to Buda Castle
The Castle Bus is a convenient and cost-effective option for getting to Buda Castle Hill. It departs either from Széll Kálmán Square, or Clark Adam Square, also from Deák Ferenc Square, and drops you off just a short walk from the castle entrance
Buda Castle: UNESCO World Heritage Site and one of the most popular attractions in Budapest. The castle complex includes several museums, galleries, and exhibitions, as well as beautiful gardens and courtyards
Castle Hill: historic heart of Buda and home many other must-see sights, including the Fisherman's Bastion, Matthias Church, and the stunning views of the Danube River and the Pest side

---
| | |
| --- | --- |
| 7 | Discover the Beauty of Budapest's Buda Hills: A Ride on the Zugliget Chairlift and Children's Railway |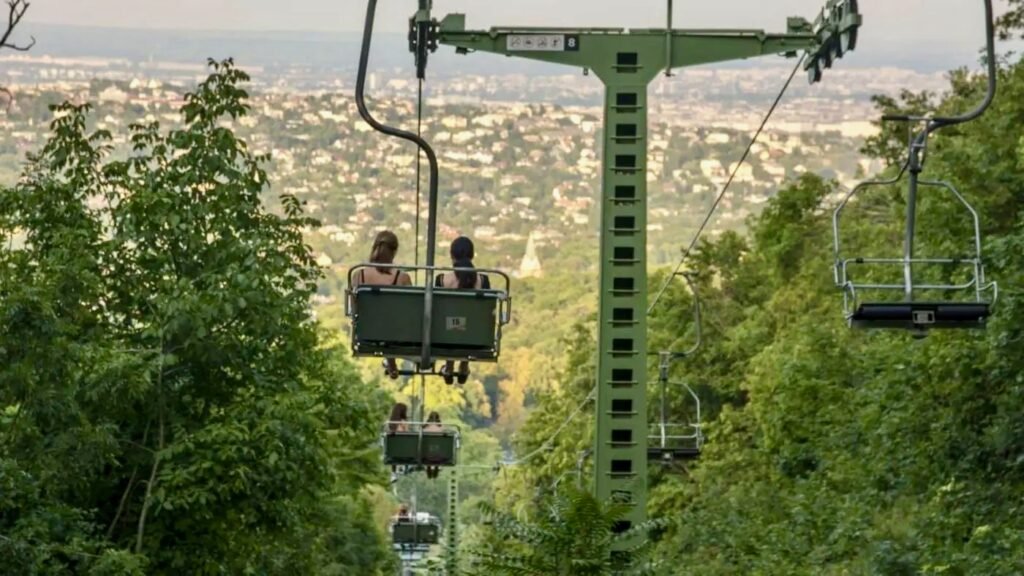 Zugliget Chairlift: Located in the Buda Hills, the Zugliget Chairlift offers breathtaking views of Budapest and the surrounding area as it ascends to the highest point of the hills
Great option for nature lovers and those who want to escape the hustle and bustle of downtown Budapest for a while
You'll see the city from a unique vantage point as you glide along the chairlift's 1040-meter-long cable
Children's Railway: This narrow-gauge railway is operated entirely by children aged 10 to 14, under the supervision of adult staff
The train runs through the Buda Hills, passing through beautiful forests and offering panoramic views of the city
You can purchase tickets for the Children's Railway at several stations along the line
The train stops at several points of interest along the way, including the János Hill Lookout Tower

---
| | |
| --- | --- |
| 6 | Convenient Airport Transportation: Bus Lines 100E and 200E |
Fast and convenient transportation: The 100E Airport Express bus provides a direct and affordable option between Budapest's city center and Liszt Ferenc International Airport
Runs frequently: The bus runs 24 hours, 365 days, every 10-30 minutes
Several stops in the city center, including Kálvin tér, Astoria, and Deák Ferenc tér, easy access to popular tourist areas
Alternatively, if you're not in a rush, you can take bus line 200E, which runs from Budapest Ferenc Liszt International Airport to Kőbánya-Kispest metro terminal, where passengers can transfer to metro line M3 toward downtown Budapest

---
| | |
| --- | --- |
| 5 | Sail on the Danube: Take a Ship from Budapest to Szentendre, the Danube Bend, Visegrád, or Esztergom |
Take a Danube Bend ship tour for a guided tour of Visegrád and Esztergom, departing from the Danube Palace or Vigadó tér in Budapest.
Alternatively, take a ship operating on a regular schedule from the Mahart International Ship Station in Budapest to various towns and cities along the Danube River, including Szentendre, Visegrád and Esztergom.
Both options offer stunning views of the Danube Bend region, making a boat ride a must-do experience for visitors to Budapest.

---
| | |
| --- | --- |
| 4 | Take a Scenic Tram Ride Along Budapest's Danube Promenade on Tram Line 2 |
Tram line 2 is a historic tram route that takes you along the Danube promenade in Pest, providing breathtaking views of Buda Castle and the Chain Bridge
Also known as the "sightseeing tram" because of the stunning panoramic views of the Danube River and Buda Castle
The route runs through some of the most iconic landmarks in Budapest, including the Hungarian Parliament Building and the Chain Bridge
A great way to experience Budapest's beauty and it costs no more than a regular tram ticket.
Budapest Transport Center (BKK) official timetables
Tram 2 live map

---
| | |
| --- | --- |
| 3 | Step Back in Time with Budapest's Oldest Metro Line – M1 |
Ride the historic M1 metro line, the oldest on the continent, for a glimpse of Budapest's past
See famous landmarks such as Heroes' Square, City Park, and the Hungarian State Opera House
Learn about the history of the M1 line at the Underground Railway Museum, located in the Deák Ferenc tér station

---
| | |
| --- | --- |
| 2 | Budapest Sightseeing on a Public Bus: Line 70 from City Park to Parliament |
Ride the Historic Bus Line 70: From City Park to Parliament, introduced for Stalin's 70th Birthday Celebration, on December 21, 1949
Bus line 70 starts its journey from City Park, which is the largest park in Budapest. You can enjoy the beautiful greenery, Vajdahunyad Castle, Széchenyi Thermal Bath, and the picturesque City Park Lake
Ends at the Hungarian Parliament, one of the most iconic and impressive buildings in Budapest. You can take a tour inside the building or just admire its stunning architecture from the outside
Buses run frequently, and you can use your regular public transport ticket to ride it. While riding bus line 70, you can also get a glimpse of local life in Budapest. You can see how people go about their daily routines, including commuting to work, shopping, and socializing
Budapest Transport Center (BKK) official timetables
Bus 70 live map

---
| | |
| --- | --- |
| 1 | Scenic Tram Ride Along the Danube on the Buda Side: Tram Line 19 or 41 |
The tram passes right by the foot of Buda Castle Hill, offering a stunning view of the castle and its surroundings
As the tram makes its way, you'll catch a glimpse of the iconic Hungarian Parliament building, one of Budapest's most famous landmarks.
Enjoy stunning views of the Pest Danube bank
Budapest Transport Center (BKK) official timetables

---
| | |
| --- | --- |
| Bonus: | A Quick Getaway: Budapest to Vienna in 2.5 Hours by Train |
With a short travel time of only 2.5 hours, the Budapest-Vienna train is a great option for a day trip to the Austrian capital, allowing you to explore Vienna's attractions and return to Budapest in the evening
3 different railway companies operate trains between Vienna, Austria, and Budapest, Hungary: MÁV (Hungarian State Railways), ÖBB (Austrian Federal Railways), and RegioJet (a private Czech provider of passenger rail transport)
Railjet trains operated by Austrian Federal Railways (ÖBB) on this route are known for their speed and comfort, making the journey from Budapest to Vienna a breeze, with free Wi-Fi and a bistro car for refreshments
ÖBB Railjet and MÁV trains to Vienna depart from Budapest's Keleti Railway Station, where you can enjoy the station's historic architecture and bustling atmosphere. RegioJet trains depart from Déli Railway Station. All trains also stop at Kelenföld Railway Station in Southwestern Budapest

---
| | |
| --- | --- |
| Bonus2: | Discover the Stunning Architecture of Budapest's M4 Metro Stations |
M4 metro line has stunning stations, each designed by a different contemporary artist
Fővám tér station features a stunning canopy of metal and glass that illuminates the entire station
Kálvin tér station features a dazzling array of geometric shapes and vibrant colors that reflect the energy of the city
Rákóczi tér station boasts a giant glass dome that lets natural light flood the platform and showcases a colorful mosaic mural
Szent Gellért tér station is one of the most unique stations in the world, with its striking blue and green hues and cavernous spaces
Budapest Transport Center (BKK) official timetables
Metro Line M4 live map

---
| | |
| --- | --- |
| Bonus3: | Explore Esztergom by Train: A Perfect Day Trip from Budapest |
The train departs from Nyugati Railway Station every 30 minutes and takes about 1 hour to reach Esztergom
Home to Hungary's largest basilica, which offers panoramic views of the Danube and the Slovakian hills on the other side of the river
Former capital of Hungary, which features narrow cobblestone streets, ancient walls and ruins, and plenty of traditional Hungarian restaurants and cafés

---